12:00 pm – 2:00 pm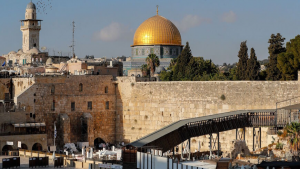 For this event at CKI, Tour Guide Reuven Arye will join us on the big screen from Israel to give a virtual guided tour of Jerusalem's Temple Mount.
Israeli themed refreshments will be served.
"Shalom! I'm Reuven Arye, a tour guide and Israel Educator at the Alexander Muss High School in Israel.
Along the way to becoming an Israel Guide I have been blessed to have been a yeshiva student, musician, counselor and mentor for young men, a husband and father, combat medic in the Israeli 101st Airborne, a sourdough bread baker and baking teacher, a goatherd in the Judean hill country, fieldworker in the organic farms and vineyards of the coastal plain, and a student in the Land of Israel Studies Dept. at Haifa University.
Eretz Yisrael, the Land of Israel, has been my Home, my medicine, the place where I have learned who I am and who I want to become. I am continuously challenged and uplifted by my life here in Israel and I invite and welcome everyone to come and walk this Land (even virtually!) . I believe you will be moved and grateful."